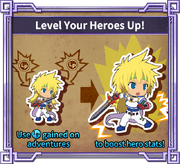 Units are typically leveled with

to increase their stats. However, special items and units are also available to help increase a unit's stats.
To view typical LP costs for units, see the LP Tables section.
Stat Increase Items (Herbs)
Herbs increase stats of a unit by a specified amount, and are given out in events such as Ares Realm and Soul Arena. The maximum amount of herbs that can be used on a unit varies depending on its rarity. 1-star units, 2-star units, and 6-star units obtained from Ares Realm cannot use herbs.
Herb
Name
Sage
Lavender
Rosemary
Stat
HP +10
ATK +5
RCV +5
Maximum for 6 Stars
(awakened units only)
99 Herbs
(+990 HP)
99 Herbs
(+495 ATK)
99 Herbs
(+495 RCV)
Maximum for 5 Stars
79 Herbs
(+790 HP)
79 Herbs
(+395 ATK)
79 Herbs
(+395 RCV)
Maximum for 4 Stars
60 Herbs
(+600 HP)
60 Herbs
(+300 ATK)
60 Herbs
(+300 RCV)
Maximum for 3 Stars
50 Herbs
(+500 HP)
50 Herbs
(+250 ATK)
50 Herbs
(+250 RCV)
Non-Herb Stat Increasers
Occasionally, special items will be given out that act similarly to herbs. They are counted as the same herb type as the stat they increase.
Limit Break
A unit may be fused with a copy of itself to increase its maximum level. The amount of levels a unit gains with each limit break varies depending on the unit. The maximum amount of limit breaks possible is shown on the unit's stats, designated by "LB."
Because a unit's maximum level is increased by limit breaking, the unit may then be further leveled with

to increase its stats.
Note : It is recommended that players do not use already limit broken or already herbed units to limit break another unit, as the limit break and the stat increases due to the herbs will not carry over.
Limit Break Hawks
Limit Break Hawks are used to Limit Break any unit matching the Hawk's type and rarity. Since Global and Soft Launch, they have only been given out as part of special events such as the Brave Frontier Collaboration, Ares Realm events, and the Trial Tower, as well as prizes for special summons like the 1st Anniversary Summon. They may also sometimes appear as rewards for completing limited Contracts during events.
Please note that units that have a maximum number of limit breaks other than 4 cannot be limit broken with hawks. The exception to this rule is 4- and 5-star clash units with a maximum number of 6 limit breaks.
The Awakening system introduced a new type of Hawk that can be used to Limit Break any 5-star unit currently eligible for Power Awakening, regardless of unit type. It is important to remember that these Hawks cannot be used on units eligible for EX Awakening, units that may become eligible for Power Awakening in the future but are not currently awakenable, or any other 5-star unit.
Level Increase per Limit Break
The following table lists the number of levels a unit gains when limit broken.
Unlocking Passives
Passives are skills that (most) units have that provide a direct boost to stats, an in-battle boost or an ability. Passives are unlocked by defeating a certain number of enemies and recorded by the unit's Finisher Count.
A Finisher is counted when the unit ends a chain that kills an enemy. Units who are disabled with a status effect will not have a kill counted. Non-targeted enemies that die as a result of a multiple-target Arte (anywhere in the chain) or an Overlink Arte also count towards the unit that finished the chain.
The following table lists the common requirements to unlock a passive by unit rarity.
Rarity
Passive 1
Passive 2
Passive 3
Passive 4
Passive 5
3
30
N/A
N/A
N/A
5
50
N/A
N/A
N/A
10
15
100
150
N/A
N/A
N/A
5
15
15
150
150
500
500
2,000
N/A
25
250
500
800
1,000
1,500
N/A

(Ares Realm units)
35
350
1,500
3,000
N/A

(Power Awakening units)
25
250
800
1,500
1,800

(EX Awakening units)
25
250
800
1,500
2,500