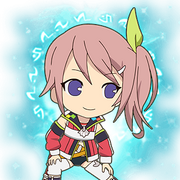 Information
A Mystic Arte user (MA user) is a unit that has an Arte Soul equipped onto the unit and is usually used as the finisher of a 9-link. When a board of nine square, circle, triangle or star tiles appear on the board, the Mystic Arte user will have a red aura. Ending the 9-link with the Mystic Arte user will result in a Mystic Arte being used instead of the usual Overlink Arte. The Mystic Arte's higher multiplier will be used in addition to the Overlink Arte's 1.5x multiplier, resulting in more damage done to the opponent based on the Arte Soul's level. For more information on Arte Soul damage, please see this link, or select the Mystic Arte page to see its damage.
To take down difficult bosses, the standard tactic is to increase the Mystic Arte user's ATK as much as possible without sacrificing too much HP and then perform a boosted Mystic Arte when the player accumulates enough LC.
Arte Soul Listing
An Arte Soul can be equipped to all characters that share the same name as on the Arte Soul, with the following exceptions:
The following Arte Souls are available and grant access to Mystic Artes for their characters (click the character name to view equippable units). Only Arte Souls in the WW tab are available in the Global version, while the JP tab listing of Arte Souls may help for future planning of units.
All items (175)