Units
6-Star Units
5-Star Units
4-Star Units
3-Star Units
Mystic Arte
Cheria

Mystic Arte
Punishing Blossom
6 hits to all foes (500% damage total).
Release an unlimited flurry of knives at the foe while time has stopped.
UR Arte Soul

The distilled power Cheria received from the spirits.
Enables the use of the Mystic Arte Punishing Blossom.

Chant
Japanese
Romanized
Translation
数多の刃よ此処に集え…
汝が見る夢、刹那と消える!
奥義! 百花繚乱!!
Amata no ha yo koko ni tsudoe…
nanji ga miru yume, setsuna to kieru!
Ōgi! Hyakkaryōran! !
Swarm of infinite blades!
Your dreams shattered in vain!
Punishing Blossom!!
Gallery
Portraits
Icons
Face Portraits
Sprites
Story Images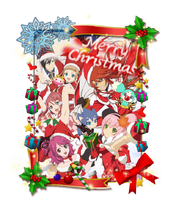 Skit Images
Miscellaneous Images