Units
6-Star Units
5-Star Units
4-Star Units
3-Star Units
Mystic Arte
Estelle

Mystic Arte
Sacred Penance
1 hits to all foes (500% damage total).
Evil spirits are cleansed by divine judgement.
UR Arte Soul

The distilled power Estelle received from the spirits.
Enables the use of the Mystic Arte Sacred Penance.

Chant
Japanese
Romanized
Translation
邪と交わりし
悪しき魂に清き聖断を
セイクリッドブレイム!
Ja to majirishi, ashiki tamashi ni kiyoki seidan o!
Seikuriddo Bureimu!
Divine judgment of purity for the wicked souls associating with evil!
Sacred Blame!!
Gallery
Portraits
Icons
Face Portraits
Sprites
Story Images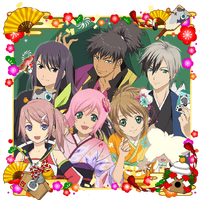 Skit Images
Miscellaneous Images