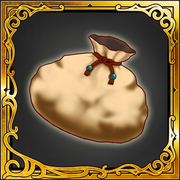 Tales of Link has many
items
that can be used for a wide variety or purposes such as refilling
stamina
,
increasing a hero's stats
, summoning,
awakening
units, or
accessing certain dungeons/stages
. Currently only gels can be purchased for Hero Stones. All other items are obtained through special means such as events, the
Exchange Market
, or
contracts
.
As of 9/28/2016, when the inventory cap of 15 keys per type was removed, there is no currently known limit to the amount of items a player can hold.
Tokens
See Awakening Tokens.
Element Ring
Summoning Items
See Summoning Items.
Event Items
Exchange Market Currency
Ad blocker interference detected!
Wikia is a free-to-use site that makes money from advertising. We have a modified experience for viewers using ad blockers

Wikia is not accessible if you've made further modifications. Remove the custom ad blocker rule(s) and the page will load as expected.