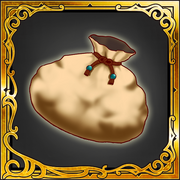 Tales of Link has many items that can be used for a wide variety or purposes such as refilling stamina, increasing a hero's stats, summoning, awakening units, or accessing certain dungeons/stages. As of 9/28/2016, when the inventory cap of 15 keys per type was removed, there is no currently known limit to the amount of items a player can hold.
Items are obtained through special means such as events, the Exchange Market, or contracts. Some items can also be purchased in the Shop menu in exchange for Hero Stones as follows.
Tokens
See Awakening Tokens.
Element Ring
Summoning Items
See Summoning Items.
Event Items
Exchange Market Currency