Units
6-Star Units
5-Star Units
4-Star Units
3-Star Units
Mystic Arte
Kanonno G.

Mystic Arte
Unchained Note
10 hits to all foes (500% damage total).
Assaults foes with the melody of an altruistic love.
UR Arte Soul

The distilled power Grassvalley received from the spirits.
Enables the use of the Mystic Arte Unchained Note.

Chant
Japanese
Romanized
Translation
永遠の今とゆしゅう かの中に
響け!
ラヴ・ビート!!!
Eien no ima to yushuu ka no naka ni!
Hibike!
Ravu Bīto!!!
In the time between now and eternity!
Echo!
Love Beat!!!
Gallery
Portraits
Icons
Face Portraits
Sprites
Story Images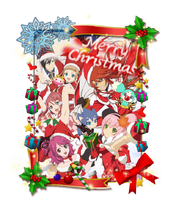 Skit Images
None currently available
Miscellaneous Images