Units
6-Star Units
5-Star Units
4-Star Units
3-Star Units
Mystic Arte
Kratos

Mystic Arte
Shining Bind
15 hits to all foes (500% damage total).
Destroy foes restrained by sacred chains with the light of judgment.
UR Arte Soul

The distilled power Kratos received from the spirits.
Enables the use of the Mystic Arte Shining Bind.

Chant
Japanese
Romanized
Translation
聖なる鎖に抗ってみせろ…
シャイニング・バインド!
Seinaru kusari ni aragatte misero…
Shainingu Baindo!
Struggle against these holy chains...
Shining Bind!
Gallery
Portraits
Icons
Face Portraits
Sprites
Story Images
None currently available
Skit Images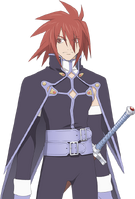 Miscellaneous Images