Units
6-Star Units
5-Star Units
4-Star Units
3-Star Units
Mystic Arte
Raven

Mystic Arte
Blast Heart
10 hits to all foes (500% damage total).
Overwhelm foes with the raw power of blastia.
UR Arte Soul

The distilled power Raven received from the spirits.
Enables the use of the Mystic Arte Blast Heart.

Chant
Japanese
Romanized
Translation
この命を懸ける・・・轟け、
鼓動!
ブラストォォォ…ハァァート!
あー、死ぬかと思った…
Kono inochi wo kakeru...
Todoroke, kodou!
Burasutoooo... Haaaato!!
Aa, shinukato omotta...
Expend this life...
Roar, heartbeat!
Blast... Heart!!
Aah, I thought I was gonna die...
Gallery
Portraits
Icons
Face Portraits
Sprites
Story Images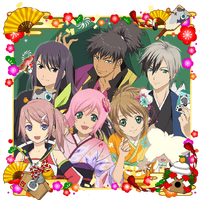 Skit Images
Miscellaneous Images