Units
6-Star Units
5-Star Units
4-Star Units
3-Star Units
Mystic Arte
Rita

Mystic Arte
Ancient Catastrophe
1 hits to all foes (500% damage total).
Four conjurations converge into one and strike.
UR Arte Soul

The distilled power Rita received from the spirits.
Enables the use of the Mystic Arte Ancient Catastrophe.

Chant
Japanese
Romanized
Translation
万象をなしえる根源たる力
太古に刻まれしその記憶
我が呼び声に答え
今、此処に蘇れ!エンシェントカタストロフィ!
来れがあたしの研究世界よ。
Banshou wo nashieru kongentaru chikara,
taiko ni kizamareshi sono kioku,
waga yobi koe ni kotae... Ima, koko ni yomigaere!
Enshento Katasutorofi!
Kore ga atashi no kenkyuu sekai yo.
O power that lies at the root of all creation,
O memory inscribed in ages past,
hear my call and arise before me...
Ancient Catastrophe!
This is the fruit of my research.
Gallery
Portraits
Icons
Face Portraits
Sprites
Story Images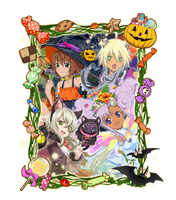 Skit Images
Miscellaneous Images