Units
6-Star Units
5-Star Units
4-Star Units
3-Star Units
Mystic Arte
Tear

Mystic Arte
Innocent Shine
9 hits to all foes (500% damage total).
Holy light rains mercilessly down on foes.
UR Arte Soul

The distilled power Tear received from the spirits.
Enables the use of the Mystic Arte Innocent Shine.

Chant
Japanese
Romanized
Translation
穢れなき風、
我らに仇なすものを包み込まん
イノセント・シャイン!
Kegari naki kaze,
warera ni ada nasu mono o tsutsumikoman.
Inosento Shain!
O wind, undefiled,
embrace those who would be our enemies!
Innocent Shine!
Gallery
Portraits
Icons
Face Portraits
Sprites
Story Images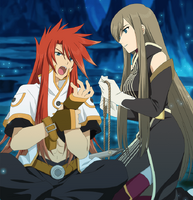 Skit Images
Miscellaneous Images